4 Ways to Get Over Your Fears FAST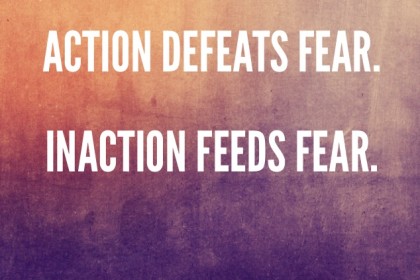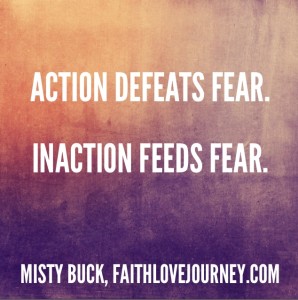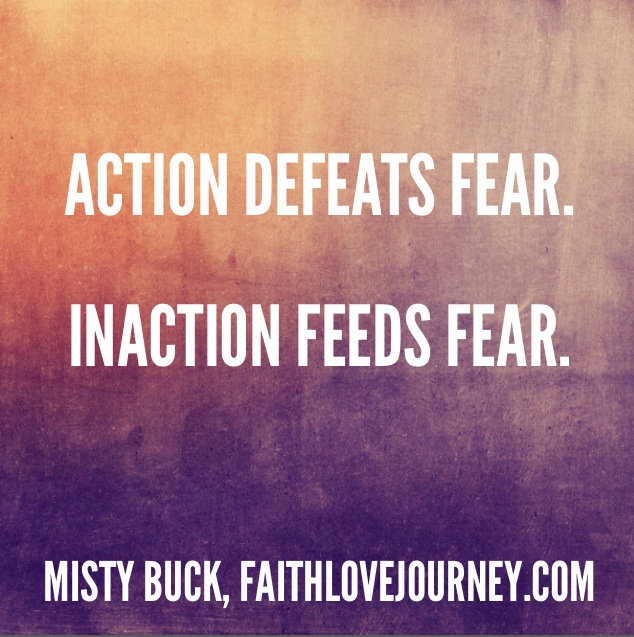 Right here, right now, I'm calling BS on "fearless." I don't care how big your muscles are or how high your stilettos are, fear cannot be escaped. And if you try to ignore it, you'll wind up on the fast lane to nowhere (i.e., fall down, go boom).
Fear is a natural response to uncertainty, which either comes from your ego or from a fight or flight response. A fear that results from your ego is the most common because it stems from uncertainty over failure, approval/disapproval, separation, loss of control, and so on.
Fear is a paralyzing emotion that keeps us from realizing our dreams and living our utmost happiest life. We fear pain, so we stay in relationships that we shouldn't. We fear failure, so we keep our awesome ideas to ourselves at work. We fear disapproval, so we act like someone we aren't in order to fit in.
The word "fearless" is complete bullshit because that's just a front aimed to cover up your vulnerability.
STOP IT! Right now. Fear is not a bad thing! It either tells us to run like hell because our lives are in danger (literally) or it points us to where we should be going.
Want to fight fear fast? Here are some quick tips:
1. Put your faith first. It doesn't matter if your faith is in religion, a greater spiritual existence, the big bang theory, or that we're all merely composed of stardust. If you believe this world begins when we are born and ends when we die, then draw courage from asking yourself, "what's the worst thing that could happen?" If you put your faith in spirit, you know you have lessons to learn that will carry you into your ascension into heaven or the next highest spiritual plane. Life is infinite so what's the harm in trusting in your faith and listening to your gut? Either way you look at it, all humans are equal in that we're all just experiencing and learning in our lives.
2. Get specific. I do this exercise a lot in writing. I write about an emotion I'm feeling to figure out what is underneath it. Try asking yourself: What is causing you to feel fear? What is it that you really want? What is the worst outcome? What is the best outcome? What will your life be missing if you don't do it? What will the world be missing? How much energy is the fear draining from you and could you be using that energy towards something you really want instead? Is the world going to cease to exist if you give it a shot?
3. Failure leads to victory. Michael Jordan was cut from his high school basketball team. Walt Disney was fired from a newspaper for not being creative enough. Henry Ford's first two companies failed. J.K. Rowling's manuscript for "Harry Potter" was rejected by 12 publishers. Marilyn Monroe was cut from 20th Century Fox in 1947, because they said she couldn't act and wasn't attractive. Oprah was fired as a television reporter because she wasn't suitable for television. You get the point.
4. Do you. Realize that the thing that scares you is something you're holding back from yourself. The fear is like a little voice jumping up and down in your body saying, "Hey, look at me! I've got something I really need you to pay attention to!" Take tiny steps each day so that you minimize the feeling of being overwhelmed and maximize the feeling of accomplishment. Build up your confidence by talking with likeminded people. Just take action that is true to you. Beat fear with action; feed it with inaction.
I realize this list is NOT all encompassing. It's meant to inspire you to take action to get rid of your fear once and for all. Some fears run deep. If you're having a hard time pulling yourself up, ask for help. Therapy is an awesome place to start. I am also a big fan of Reiki circles where guests have their energy balanced by Reiki practitioners. Reiki is amazing for balancing energy and helping to remove the negative feelings of fear, anxiety, etc.
What's your fear? Share it with me below for a chance to win a free one-on-one coaching session.
About Misty Buck
Misty Buck is an entrepreneur and also a mindfulness coach for professionals and athletes. She holds a B.A. in Communication and English and is certified as a Professional Life Coach (CPC), a Spiritual Life Coach (CSC), and a Reiki Master.
What you can read next