6 Steps to Get Out of Your Own Way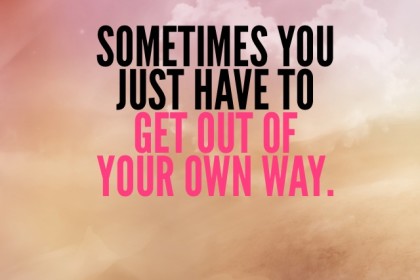 There's a fine line between your reality and your excuses. I'm positive you're reading this right now with something that's nagging you in the back of your head. I HAVE to work out today, I HAVE to take that next step in my business, I HAVE to sign up for that class, but I also HAVE to take the kids to school and pick them up, I HAVE to physically be at work, and I HAVE to go meet up with Joe for drinks after work.
The "have to's" are enough to stress anyone out. Before you know it, another day has passed and another step towards your goal gets pushed to tomorrow. And in time, you've lost your purpose, which leads to all kinds of other issues in how you feel (ahem, anxiety) and in your relationships.
The trick? Get out of your own way!
1. Replace "have to" with "I want to." Why? First, you're changing your perspective so that you're not resenting what your current commitments are. Secondly, when you place "I want to" in your vocabulary, you'll actually do more of the things that you want to do.
2. What are you saying "yes" to that you should be saying "no" to instead? If you want to get in better shape, why are you going to happy hour instead of going to the gym? If you need more time during day, why are you scheduling 52 networking events a week? You get the point.
3. Tell your supporters that you need help! Superman and Superwoman are fictional for a reason. You don't have to do it all and you can't do it all. If you're struggling and you need a way to get to the next step, ask your family, friends, roommates, etc. for support. Here's how: Tell them what's important to you and why and then ask them to support you when you say you are doing xyz action to get to that goal. This way you don't feel guilty when you say "no," to them. You can also ask them to help with the 99 things you have on your plate. For example, maybe your friend or in-law picks up your kid from school two days a week.
4. Tell everyone what your goal is! No, really. Put it out on social media, say it in random conversations, etc. Don't hold it back! Why? Now you're creating accountability for yourself because everyone knows what your goal is and will be wondering how you're doing. Also, when you begin to verbalize your goal, you automatically give it more of a priority.
5. Surround yourself with people who inspire you. It only makes sense that when we're trying to get from Point "A" to Point "B" that we would study how others did it. It doesn't mean you have to follow in their exact footsteps, but look at how they got to where you want to be. Sign up for e-newsletters, follow them on social media, read their books, whatever it is. Also, look to build your own tribe in your own backyard. Who has similar goals? Well, start talking to them!
6. Define your actions. What does your dream look like? What would you have to do get there? What actions do you think will deliver the desired result? How is that different from what you're doing today? What can you start with today? Look at it all from mindset to action.
About Misty Buck
Misty Buck is an entrepreneur and also a mindfulness coach for professionals and athletes. She holds a B.A. in Communication and English and is certified as a Professional Life Coach (CPC), a Spiritual Life Coach (CSC), and a Reiki Master.