Morning Stillness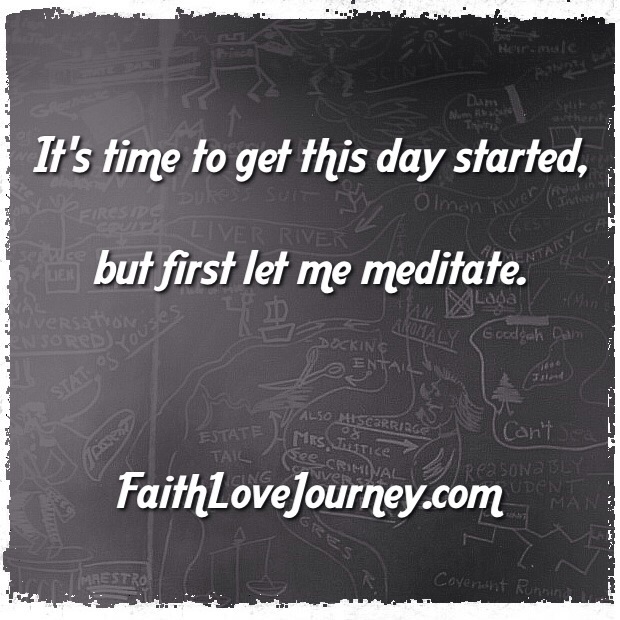 Morning stillness. Sounds like an oxymoron, huh? The morning is usually the least calm part of my day because I am far from a "morning person." I am easily flustered.
I have made it a practice to wake up and thank God for all that I have, but soon after that, somewhere between the dogs barking and the coffee machine begging me to turn it on, my thoughts begin running. They literally run circles around me. Just yesterday, I was so consumed in my thoughts about 99 simultaneous things that I gave all four of my dogs the wrong food. The big dogs got the pugs' portions and vice versa. I didn't realize until I noticed that one of my pugs had his head buried deep in a large bowl of dog food normally reserved for our 100-pound American Bulldog. Oops.
So here I am Friday morning. Before I even got out of bed, I checked my email, social media accounts, and mentally went over today's to-do list. No wonder I'm always tired. Do you know the feeling?
I am starting to prepare for my hectic day when I think of something Dr. Wayne Dyer said in a writing workshop I attended last weekend. He put it much more eloquently than I am about to, but here it goes. When you have a desire or a passion. When there is something that is inside of you that you can't let go of. When there is a voice that repeats itself and when that thought excites you, there's only one thing you can do. You must pursue it. He cautioned, however, that there must be nothing you are unwilling to do in order to pursue your calling.
Right in that moment, I decided I'm going to meditate, get my mind right, and then write before I do anything else today. Why? It sets the tone for my day. It sets my mind at ease. And after all, that's what writers do, we write! Behind every thought I have, is the desire to write. If I had one of those bumper stickers, it'd say, "I'd rather be writing." That's how much it consumes me. I'm learning that I have to release it or risk being unsatisfied. I must act on this piece of me.
In this morning's meditation, which admittedly wasn't for very long, another thought comes to me. It's hard for me to clear my head so at first my mind was drifting off to thoughts about other things and people. Immediately, the message is, "It's not about the people." At first I was confused, but then I understood. This message doesn't excuse me to be selfish or mean. This message is simply about doing what my soul is here to do.
I want to help people, but the point of this message was that I don't need to worry about that. When I write, I intend to share it with people, but the outcome of their reaction is not what matters. In other words, if you love or hate my blog, I am not concerned. I have to let go of my ego, whether that is in rejoicing in your positive feedback or being upset with your negative review. It doesn't even matter how many people this blog reaches. What matters is that I just do it.
So here I am this morning, sitting still and writing. In this moment, I am probably more "myself" than I will be at any other point today. For you, this may be playing a sport, being a parent, giving a speech, crunching numbers, consulting with business owners, fishing, or driving a car. Whatever excites you, go for it and let there be nothing you are unwilling to do.
About Misty Buck
Misty Buck is an entrepreneur and also a mindfulness coach for professionals and athletes. She holds a B.A. in Communication and English and is certified as a Professional Life Coach (CPC), a Spiritual Life Coach (CSC), and a Reiki Master.