Block out the noise. Let go of the unnecessary.
It's easy to get caught up in life and spread thin in many different directions.  Today I ask for clarity in my path and in my direction. I am doing my best to keep everything together and still grow as a person.
I jotted down some notes on all of the directions I currently feel pulled in. From running and growing my business, to opening up to new business opportunities, to being newly engaged, to being a step mom, to supporting my fiancé through a difficult time, I constantly feel overwhelmed and exhausted. I balance the day-to-day as best I can by eating right, getting enough sleep, exercising, and meditation, yet I still find myself feeling that things are just off.
What can I let go of? What is unnecessary?  I don't have a problem saying no but yet I have commitments that I'm not sure are the best places to be putting my energy during this time of growth and change. How can I achieve balance? It's not easy. I often find myself doing the same things over and over, some out of necessity and some out of not knowing what else to do, for fear that I may make a poor decision in a time of craziness or that I'll lose my mind if I try to tackle one more thing. I suppose this is normal when life is on the chaotic side.  So today I reminded myself that all questions will be answered overtime as things always fall into place. I am right where I am supposed to be.
No matter what I am up to in my life, it always come back to wanting to find peace and helping others do the same.  That is why, despite being scared, I am opening myself up to sharing my spiritual journey with others.
Today's mediation is simple, as they almost always are:
Block out the noise
Let go of the unnecessary
I allow my spirits to guide me
I am open to my spirits guiding me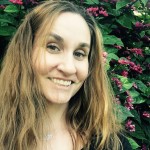 About Misty Buck
Misty Buck is an entrepreneur and also a mindfulness coach for professionals and athletes. She holds a B.A. in Communication and English and is certified as a Professional Life Coach (CPC), a Spiritual Life Coach (CSC), and a Reiki Master.