The key to staying on track with your goals during the holidays
Listen to the audio version of this post above. 
Hello, holidays! I am so scattered, but to be fair I have more than holiday madness on my mind. I am looking straight ahead to my goals in 2015. Next year I will publish my first book and launch the Faith Love Journey coaching and speaking business. The holidays just happen to be around and are getting in my way.
As I was pondering this yesterday, I came to realize a couple of things. The first is that the holiday season is a time for reflection. If you can get past the desire to host a Pinterest perfect party and blow a ton of money on stuff no one really needs, you'll begin to really appreciate what the holidays are for. Regardless of your religious beliefs, it's a time to celebrate, give thanks, and reflect on all that we are blessed with. It's also the perfect time to think about the lessons you learned over the past year. Having said that, no one can argue that December often feels like a whirlwind, which brings me to my next point.
The second realization I had is regarding my goals. I am extremely ambitious, but I've learned that if I want to achieve anything noteworthy, I have to take care of myself. This is especially true this time of year. If you listen to the audio version of this blog (above), you'll hear that I was thinking about all of this while I was driving to the gym last night. I so did not want to go. I was really close to talking myself out of it. Then I looked at my fitness app, which I'm using to help me meet a weight loss goal, and I realized that I only had 300 calories left for dinner, but if I worked out, I would easily have another 500. How's that for motivation? Haha.
On my 15-minute drive to the gym, I began to feel rejuvenated. Why? Because I was doing something to help me meet a goal and taking time for myself. I have a love/hate relationship with the gym, but working out is one way that I keep myself physically healthy and mentally sane.
When it comes to the holiday season, the number one key to staying on track with your goal is to say yes to you and your goal and no to the things that won't help you. There has to be a balance. Here are some scenarios based on a few of the top goals that people make:
Lose Weight: Can't miss that holiday party after work? Plan ahead. Eat a salad or something healthy and filling before going to the party. This way you won't over indulge on treats. Be sure to also plan exercise into your day. Maybe you can take a walk during a break at work or get in some pushups and crunches before the party. Just make it happen. You'll feel so much better.
Volunteer: Charitable organizations hold lots of events during the holiday season. Find a cause near to you and then choose volunteer opportunities that you can couple with other holiday tasks. For example, if there's an event at or near a mall, sign up for that one and then do your shopping before or afterwards.
Save Money: This is seems nearly impossible during the holiday season. I was actually poking around Pinterest the other day and found a ton of really cute home décor crafts that anyone can make for next to nothing. These would make great gifts! Also, check out sales at grocery stores so you can plan a party menu on the cheap. You'll also want to make a budget for the season and stick to it. Every time you stick to your shopping budget, reward yourself by putting $10 in a savings account.
What are your goals and how are you working on them during the holidays? I'd love to hear about it!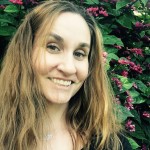 About Misty Buck
Misty Buck is an entrepreneur and also a mindfulness coach for professionals and athletes. She holds a B.A. in Communication and English and is certified as a Professional Life Coach (CPC), a Spiritual Life Coach (CSC), and a Reiki Master.