Recognize Signs and Trust the Messages

It seems that lately I've been having a lot of discussions about signs. I'm not talking about the red light, green light kind, I'm talking about happenings that can only be explained as messages. Forget extraordinary coincidences for there are none. It's not scientific and the "how's" don't matter. The spirit world is amazing. The energy is remarkable for eternal love is boundless. I'll give you an example by sharing the very story that inspired this post.
A very dear friend came by my house the other day telling me a story about a recent trip to the Florida Keys. Growing up she spent a lot of time in the Keys because her grandparents had a second home there. She shared countless precious days creating lifelong memories in that home. As the world would have it, however, things change. The house got sold and her grandfather, whom she adored with all of her being, passed away. It took her years to get the courage to go back to the Keys. With time, she got a little more brave and she started taking trips with her own family.
Most recently, she went down to celebrate the engagement of her sister. She and her husband have a photography hobby (they are very talented for the record) and offered to take engagement pictures. On the way back home she was flipping through the pictures on their camera and texting teaser photos to her sister. She had the phone in one hand and the camera in the other. As she's texting the photos something phenomenal happened. Right around the area where the family house they so loved used to be, her phone did something that can only be explained as a message. As she was looking at the camera, she got an odd feeling and looked back at her phone. There on her phone was the word "Papi," which was her grandfather's name.
She told this story to me with tears in her eyes at first explaining that it was a crazy coincidence and that nothing like that's ever happened to her. I told her I was amazed. It had to be a message from Papi! How else would that have happened? Of all the gibberish that could pop up on a smart phone, it just happened to be that name by coincidence? I personally believe her grandfather was letting her know that he was with her. We were both teary eyed when something else amazing happened. At that moment her 10 month old daughter looked up and said "Barry" out of nowhere. Her parents went on to tell me that she's been saying that a lot lately and it's quite possibly her first word, except no one knows who Barry is! After she repeated it a few times I told them that Barry might be her guardian or a guide and her husband nodded in agreement.
Signs, or messages, don't need a reason. They just happen and they just are. Yes, sometimes it can be so "coincidental" that you question your sanity. Trust your gut. Trust those little hairs on your arms that stand up. Trust the goose bumps. Trust the happy tears.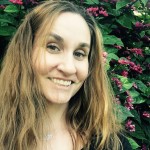 About Misty Buck
Misty Buck is an entrepreneur and also a mindfulness coach for professionals and athletes. She holds a B.A. in Communication and English and is certified as a Professional Life Coach (CPC), a Spiritual Life Coach (CSC), and a Reiki Master.