I Don't Know What I'm Doing
Why are we so full of restraint? Why do we not give in all directions? Is it fear of losing ourselves? Until we do lose ourselves there is no hope of finding ourselves." -Henry Miller
There's nothing wrong with wandering; sometimes that's what it takes to realize it's time to take a step back and look at what's going on around you. Am I happy? Do I feel fulfilled? Absolutely!
Am I taking advantage of all this life has to offer? Am I learning the lessons my soul was meant to learn in this lifetime? Are the things that I'm doing day-to-day a part of the progress or am I too busy crossing things off of my to-do list? I have no clue. After all, I may seem like I know exactly what I'm doing, but I really have no idea.
This week I've been asking for help from my guides, guardians, and loved ones who have crossed over. I've asked for protection and for guidance. As you may recall, I received a message from my grandmother a couple of months ago and she basically wanted me to know that "it's all good." While I find extreme comfort in that, I still find myself wondering about the track that I'm on.
I decided to meditate on it. Despite my fierce independence and defense mechanisms (yes even in meditation I sometimes have a hard time telling myself to shut up and listen), when I ask for answers about my purpose, the message is almost always the same. I am a writer. It's been that way since I could pick up a pencil and paper and form sentences. It's what I love and many say it's a gift.
I make a living writing, but I do it for other people and companies. I rarely write for myself and so here I am. It took me months to even start this blog, but after the idea came about in several meditation sessions, I decided to just go for it.
I may not know exactly what I'm supposed to be doing, but if they tell me to just write, that's good enough for me. At least for now.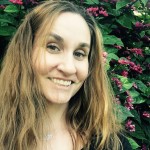 About Misty Buck
Misty Buck is an entrepreneur and also a mindfulness coach for professionals and athletes. She holds a B.A. in Communication and English and is certified as a Professional Life Coach (CPC), a Spiritual Life Coach (CSC), and a Reiki Master.