Mindful Movement Meditation
by Misty Buck
/
Saturday, 19 August 2017
/
Published in
When:
November 21, 2017 @ 6:00 pm – 7:00 pm
2017-11-21T18:00:00-05:00
2017-11-21T19:00:00-05:00
Where:
Five Sisters
8805 SW 132nd St
Miami
FL 33176

Contact:
Five Sisters
(786) 250-4170
Living mindfully is learning how to be present in the moment by being connected to your mind, body and spirit in such a way that you feel free and focused. Meditation is one of the best ways to achieve this, which can be practiced by focusing your awareness whether sitting still or with movement. Join Coach Misty (Certified Life Coach, Spiritual Life Coach and Reiki Master) for a unique mindful movement class where she'll walk you through mindful movements followed by a seated meditation to allow your body and mind to slowly relax. Each 60-minute class is opened with a mindful message, followed by a mindful movement exercise and meditation to connect body, mind and spirit, and closes with the opportunity to participate in a brief journal writing/group sharing closing circle. Participants are encouraged to wear comfortable clothes, bring a yoga mat and a journal/notebook. $15 per person. Cash only. Please pay at Five Sisters upon arrival.
Would you like a mindful movement and meditation class at your facility? Please contact me to inquire about scheduling.
Here's what some of our group participants are saying after class…
"I feel so relaxed! I was able to control my distracting thoughts much more with your help."
"I feel like I just had a couple of drinks!"
"Starting with movement is awesome because I'm an active person and it helped me gradually slow down my body and brain."
"I've taken other meditation classes and had a hard time letting go. The movement exercises kept me focused. Combining the physical and the mental allowed me to have complete focus. It's not a typical meditation. Very relaxing."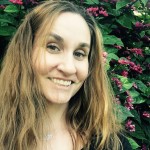 About Misty Buck
Misty Buck is an entrepreneur and also a mindfulness coach for professionals and athletes. She holds a B.A. in Communication and English and is certified as a Professional Life Coach (CPC), a Spiritual Life Coach (CSC), and a Reiki Master.